NAFO Asia Pacific Regiment
One Year of Fighting Russian Misinformation and Supporting Ukraine
Background
NAFO was formed in May 2022 as a group of individuals supporting Ukraine. At that time, NAFO was completely decentralized.
Many of us took up the fight against Russian misinformation online as individuals, which was emotionally draining and challenging. It felt like each of us was up against 20,000 paid Russian trolls. The lack of coordination meant that our efforts had little impact, and the fight seemed hopeless at times.
Formation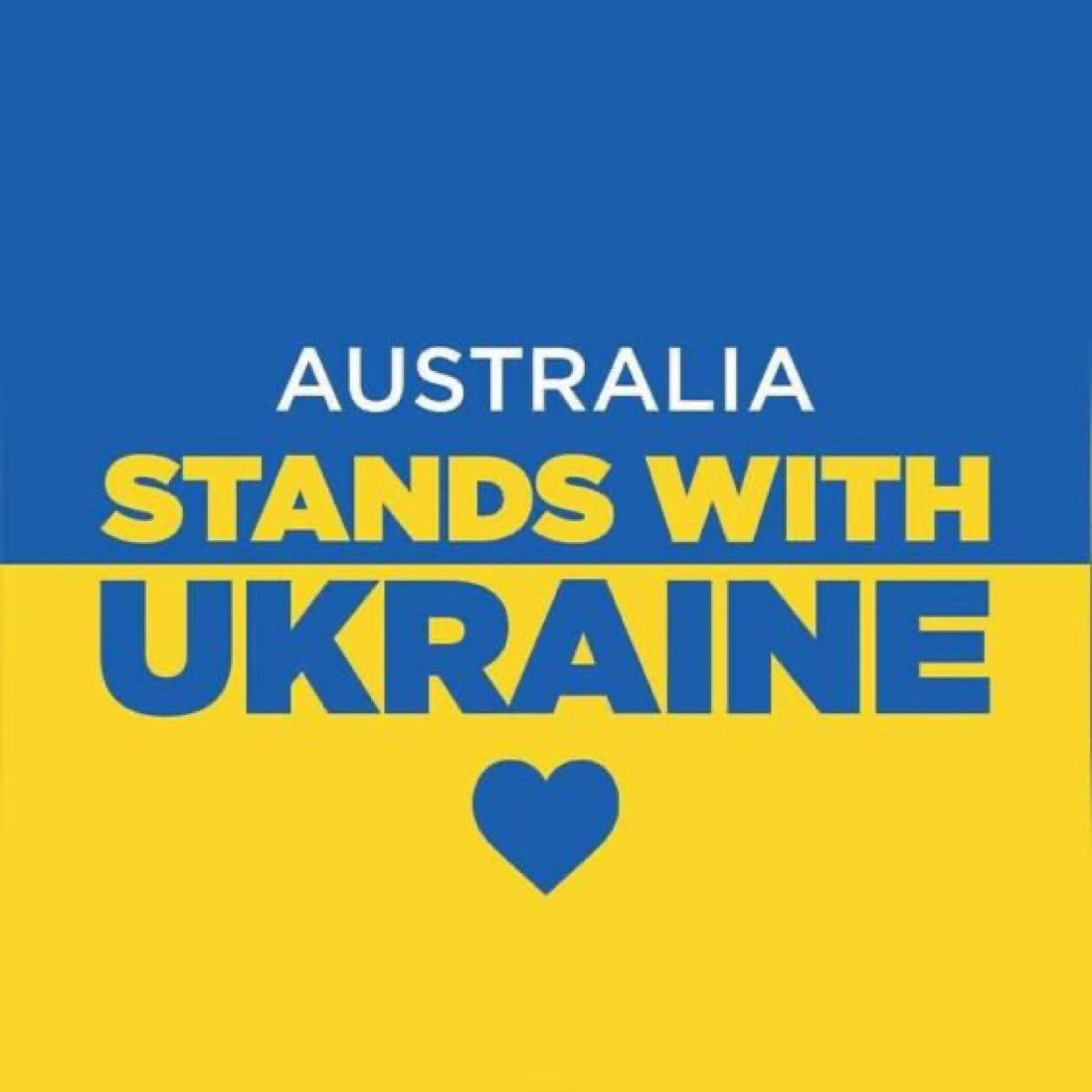 On August 3, 2022, the NAFO Asia Pacific Regiment was formed. The team sought out individuals who posted pro-Ukrainian content on the Twitter accounts of @RusEmbAU to form a group with the following goals:
Better coordination of efforts against Russian misinformation; and
Support for each other's mental health
Through this search, we found 8-10 individuals in Australia who shared our values. All of them were fighting for Ukraine, but doing so alone. We soon began coordinated responses to Alexey Pavlovsky's tweets.
Early Days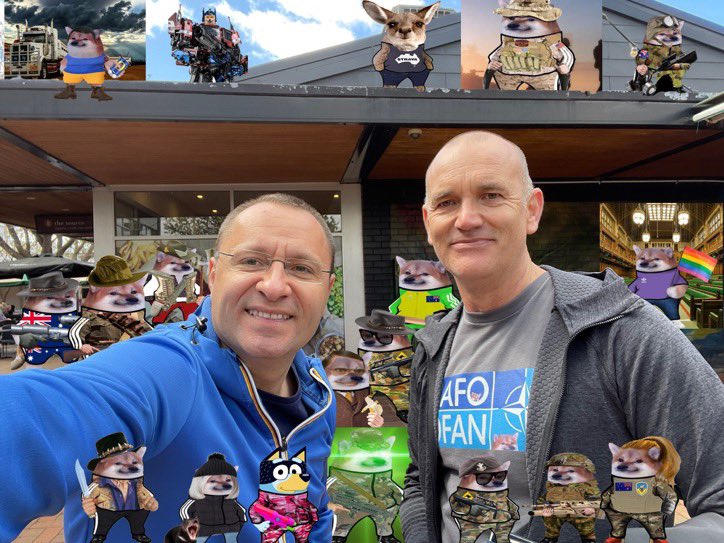 NAFO Asia Pacific Regiment is a prime example of #NAFOExpansionIsNonNegotiable. It happened in fits and starts, but it kept happening:
New Zealand in September 2022;
Singapore in October 2022; and
Japan in November 2022.
In September 2022, a suggestion was made that we should expand to cover @RusEmbNZ and Russian activities in New Zealand. Similar to our "recruiting" activities in Australia, we sought out those who were active on Georgy Zuev's tweets via @RusEmbNZ. By the end of September 2022, we had 30 Fellas in Australia and New Zealand.
But the APAC region is more than just Australia and New Zealand. The team found that Singaporean Fellas were fighting on their own. They needed a home, so they joined us. The Japanese Fellas were part of a Japanese language and Japan-centric group but were also lacking in critical mass. Some of their Fellas joined us. As the number of Australian and New Zealand Fellas grew, we gained further members.
By early November 2022, the NAFO Asia Pacific Regiment had 50 members, including General Mick Ryan and Ambassador Bruce Edwards. As all "overnight success stories" will admit, there were growing problems:
Whether and how to become involved in fundraising for Ukraine;
What our culture should be; and
How to integrate our activities with local Ukrainian communities.
Add to that @Nickdm, the original convenor of our Twitter DM group, lost his account after making a joke about the merits of fencing Russians in Russia and providing large amounts of alcohol. Apparently, that tweet was "inciting genocide."
Continued Expansion
The NAFO Asia Pacific Regiment learned from its initial mistakes. Its rebuild and further growth has involved:
Defining its core values;
Aligning new members with its core values and culture;
Embracing its team's many skills;
Attending local Ukrainian community rallies; and
Continuing its geographic growth.
Core Values
The NAFO Asia Pacific Regiment is a team-first group that supports Ukraine and prides itself on being low-ego.
Our members come from many different countries, with different political allegiances, cultures and sporting interests. However, this diversity is our strength, as we all share a common goal of supporting Ukraine.
Our core values are based on the experience of one of our members' fathers in the armed forces:
We recognise that an army moves as quickly as its slowest foot soldier, so it is up to each member of our team to support one another. This is particularly important in our long war against Russian Government misinformation.
The NAFO Asia Pacific Regiment is proud to "live" these core values in practice. There have been numerous instances of members going through tough times and being overwhelmed by the support provided by their fellow team members.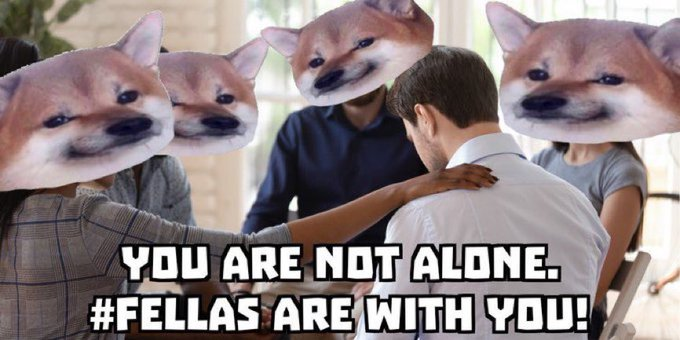 Aligning Our Culture
The NAFO Asia Pacific Regiment has had to evolve. Having a NAFO Fella no longer provides automatic membership to the team. Incoming Regiment members need to share our values and acknowledge the same prior to joining. It is our hope that the addition of each Fella makes us a stronger team.
In the early stages, a few Rambos who were not team players joined us. This led to angst and name-calling, which had the potential to destroy the group entirely.
We also experienced a few infiltration attempts by Russian sympathizers. Fecking Ivans.
The NAFO Asia Pacific Regiment takes pride in the fact that it is the sum of its people. Each member brings their unique skills, experiences, and values to the team, creating a diverse and powerful force. We are committed to continuous growth and improvement, always striving to work even better in the year ahead.
Embracing Our Skills
Initially, the NAFO Asia Pacific Regiment was designed with a "narrowcast" remit: to monitor Russian embassies in our region and provide mutual support.
As our numbers and geographic reach have grown, so too has the opportunity to expand our activities and leverage the skills and experience within the team. These include:
Fundraising for Ukraine;
Reporting misinformation and hate speech by pro-Russian sympathizers;
Creating memes and videos;
Coordinating campaigns; and
Developing our own website.
Once we reached the 75 person Twitter limit for direct messaging in our group, we expanded by creating The Irregulars and Commonwealth groups, as well as specialist sub-groups for Creatives, Reporting, Parody Embassies, and our own website.

Local Ukrainian Community
Until November 2022, the NAFO Asia Pacific Regiment had been too insular. We had not made enough effort to:
Expand our activities beyond Twitter;
Integrate ourselves into our local Ukrainian communities; and
Expand our reach into non-English speaking communities who were natural supporters of Ukraine.
Our initial step was to start attending Ukrainian rallies in Sydney and other capital cities. Since most Ukrainians use Facebook, they had not heard of NAFO. Neverthless, we kept at it.
However, the three-day Russian Film Festival in Melbourne, held from December 9th to 11th, 2022, provided an opportunity to change that. Although the festival was ostensibly not related to the Russian Embassy in Australia, it was held at Hoyts and organized by a local Chinese group in Australia, with movies being provided by the Russian cultural group Roskino.
The trouble was that Hoyts is owned by a Chinese state-owned enterprise, and the Chinese marketing company behind the festival was "deaf" to Ukrainian complaints. Adding to the unease of the local Ukrainian community, many Russian sympathizers were actively promoting the event.
Despite representations by the local Ukrainian community to Hoyts, the Victorian Government, and the Federal Government, nothing was done to address their concerns … until they reached out to NAFO Asia Pacific Regiment. Yes, we ran an online campaign to highlight what we saw as a Russian Embassy event.  Again we ran into "political deafness".
So we decided to take action. The silly Putinists had sought to encourage attendance by giving tickets to the film festival away. All that did was attract our team's interest. As a result, we booked the entire three-day festival.
Every.
Single.
Ticket.
With a festival full of tickets, NAFO Asia Pacific Regiment began to taunt Ambassador Alexey Pavlovsky as well as other local Russian embassies, and their sympathisers. We even offered to sell them their own festival tickets "on proof of donation to a Ukrainian charity".
During the festival itself, the NAFO Asia Pacific Regiment team placed pro-Ukrainian material in the Hoyts cinema area that had been cordoned off for the event.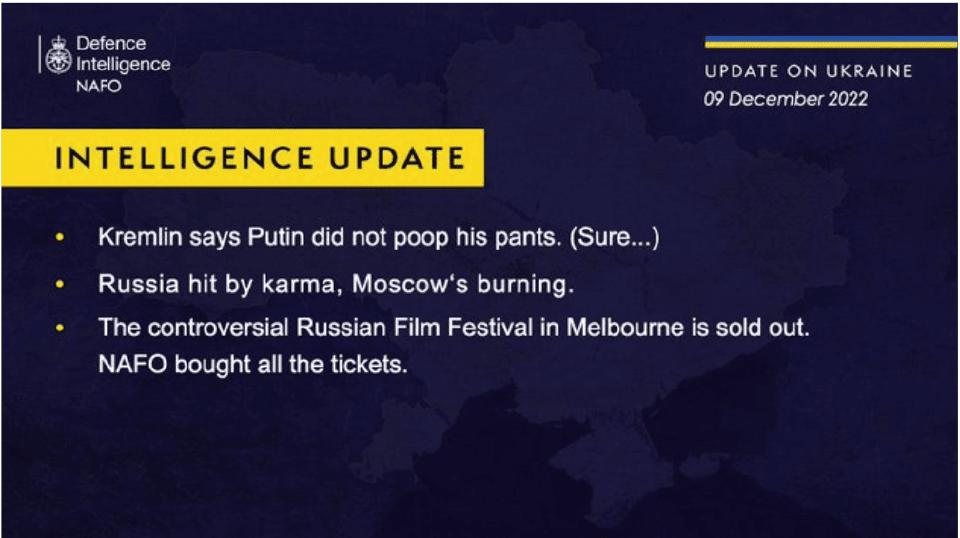 Alexey Pavlovsky was not happy. The Russian Embassy in Australia did not tweet for ten days. The local Ukrainian community began to appreciate that NAFO was on their side.
In March 2023 the local Ukrainian community in New Zealand reached out to us. Russians in NZ had been harassing Ukrainian refugees. The refugees were threatened with deportation if they demonstrated against Russia's invasion.
The Russians also sought to prevent the local Ukrainian choir sing "Red Vibernum" at a local community concert. NAFO Asia Pacific Regiment stepped up with a vigorous online campaign that drew the attention of the major NZ newspaper, New Zealand Herald.
To highlight the Russian harassment and the Ukrainian choir's efforts the Creative team prepared a special video for "The Great Russian Patriotic Choir".
Continued Geographic Growth
NAFO expansion is non-negotiable. It's not just a catchphrase. It's a fact. Our team has grown, with new members from:
The Philippines in December 2022;
The Americas in December 2022;
Greater China in March 2023;
South Africa in March 2023; and
Indonesia in April 2023.
Today, we have over 180 Fellas across Australia, New Zealand, Singapore, Hong Kong, the Philippines, Japan, Thailand, Greater China, United States, South America, South Africa, and Indonesia.
While regional teams run their own activities, all NAFO Asia Pacific Regiment Fellas have access to our archive of memes, movies, and support. Multi-country NAFO collaboration is actively encouraged.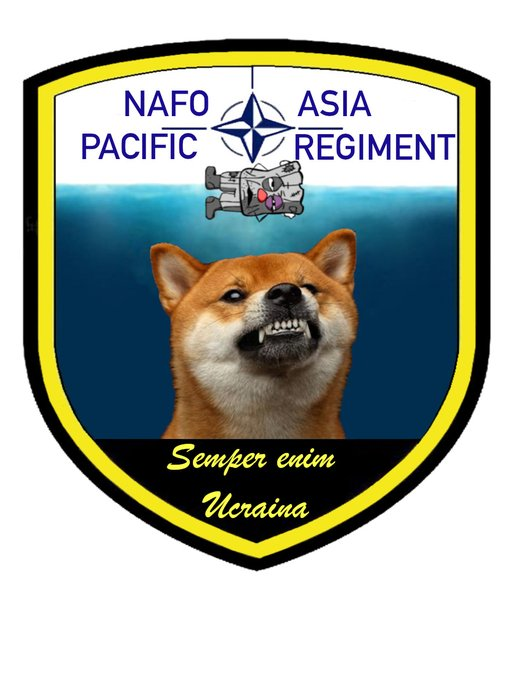 Our First Year's Highlights
NAFO Asia Pacific Regiment has had a busy first year. Some of the highlights have included:
The Great Russian Film Festival Ticket Heist;
NAFO Christmas cards;
NAFO Asia Pacific Regiment Christmas video;
Lunar New Year video;
NAFO Valentine's Day cards;
"George Galloway: Peace Warrior or Russian Shill" video;
No2NATO conference plus another 10-15 pro-Putin conference bookings;
"The Great Russian Patriotic Choir" video;
NAFO Anzac Day cards;
Moskva Day celebrations;
Activision: Call of Duty campaign; and
Sergei Surovikin search party.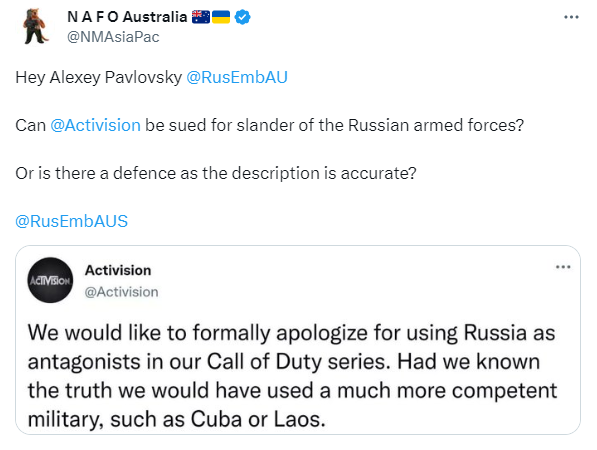 At the same time, NAFO Asia Pacific Regiment recognizes those who have been involved in multiple fundraising efforts for Ukraine, maintaining our own website in four languages, and looking after our team's mental health. We have also grown the team to over 180 members while retaining our low-ego, team-first culture, all the while keeping our region clear of Russian misinformation.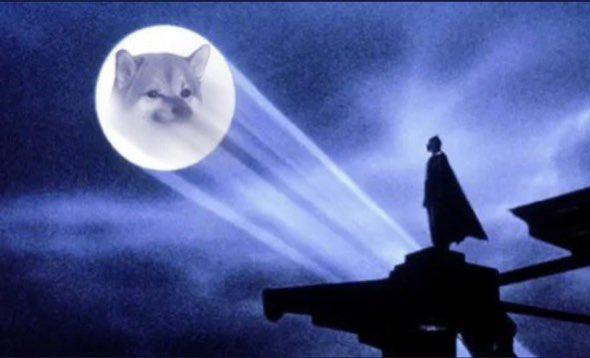 Where to Next?
In business, sports, and war, standing still is equivalent to moving backward. On the first day of our second year, the NAFO Asia Pacific Regiment has taken several steps forward, including:
creating a new team motto; and
appointing an honorary patron.
Team Motto
In the first year of NAFO Asia Pacific Regiment's life we did not have a motto. We were too busy fighting Russian misinformation and raising funds for Ukraine.
From 3 August 2023 our team's motto is
This translates from Latin to English as "Always for Ukraine". This motto reflects our team-first approach and commitment to Ukraine's success. We plan to incorporate our logo into more of our activities in the upcoming year.
Honorary Patron
NAFO Asia Pacific Regiment is proud to announce the appointment of General Kyrylo Budanov as the unofficial Honorary Patron of NAFO Asia Pacific Regiment. General Budanov is a quiet achiever. As Head of Ukraine's Main Intelligence Directorate, Budanov is a living embodiment of our motto "Semper pro Ucraina".
Commenting on Russia's issue of an arrest warrant against him, Budanov noted:
To commemorate Budanov's appointment, NAFO Asia Pacific Regiment commissioned a special edition Fella from the Forge. The attached Fella, created by our own Polly, is in the style of Sir Francis Walsingham, Elizabeth I's spymaster.
In the background, in true Elizabethan style, are the heads of Ukraine's enemies: Putin, Shiogu, and Medvedev on spikes, in this case a Ukrainian trident…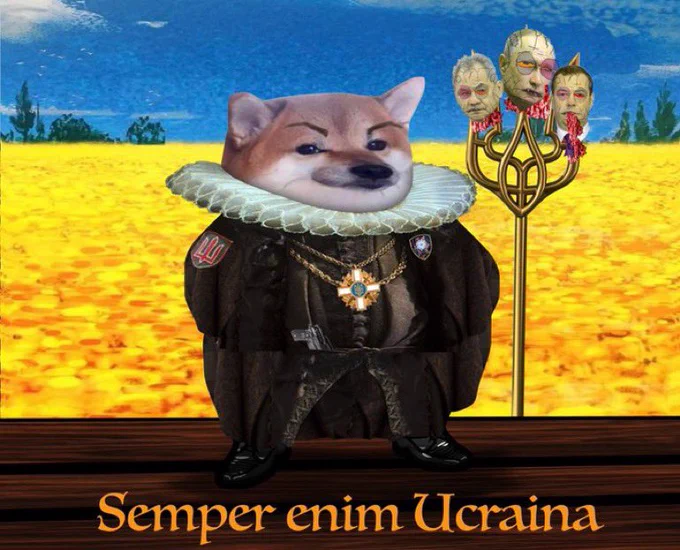 Whilst General Budanov may not be aware of NAFO Asia Pacific Regiment, our activities or even his "unofficial" appointment as our Honorary Patron, we hope that one day the Fella will find its way to him. It reflects our genuine appreciation for the work he does for Ukraine.
In closing, in the year ahead, echoing the words of our patron,